Previous Events
2020 Book Talk & Discussion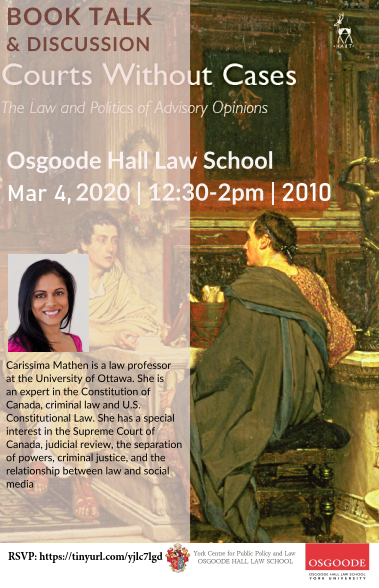 Date: March 4, 2020
Time: 12:20PM-2:00PM
Location: 2010 Osgoode Hall Law School
Carissima Mathen is a law professor at the University of Ottawa.  She is an expert in the Constitution of Canada, criminal law, and U.S. Constitutional law.  She has a special interest in the Supreme Court of Canada, judicial review, the separation of powers, criminal justice, and the relationship, between law and social media.
At the book talk event, Carissima will participate in a group discussion of her book, Courts Without Cases: The Law and Politics of Advisory Opinions.
PRESENTED AND SPONSORED BY

2019 Constitutional Cases Conference
Date: April 5, 2019
Time: 8:30AM-5:00pm
Location: Toronto Reference Library
Toronto [Notwithstanding] Breakfast
Date: Wednesday October 10th, 2018
Time: 8:30AM-10:30AM
Location: Room 2027, Ignat Kaneff Building, Osgoode Hall Law School
RSVP: bit.ly/6BTPT
Poster: Can be downloaded here
BRINGING THE PIECES TOGETHER
Short interventions & a Chance to Reflect on:
Bill 5 (the Better Local Government Act) & City of Toronto v. AG Ont
the Province's use of the notwithstanding clause
our city governance/the place of the city in the country & constitution
Agenda and Bibliography will be available here http://bit.ly/6NWSTNDG
Space is limited and we are working on the possibility of livestreaming this event.  If space is no longer available, please check this page for updates.
Date: February 2, 2018
Time: 8:00AM-6:00PM
Location: Osgoode Hall, 130 Queen Street West, Toronto
Presented By: Intellectual Property Law & Technology Program (IP Osgoode)Topics included:
The impact and implications of AI for Industry
Concerns about Intellectual Property and Commercialization;
Cybersecurity and Algorithmic Accountability;
Social Good.
Visit the PROCEEDINGS page to listen or watch the conference recordings.
2017 Constitutional Cases Conference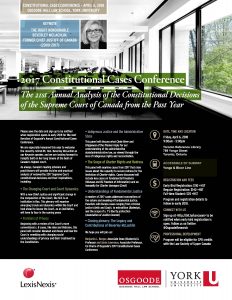 Date: Friday April 6, 2018
Time: 9:00AM-5:00PM
Location:Toronto Reference Library 789 Yonge Street, Toronto Ontario
Cost: Early Bird Registration: $110 +HST
Regular Registration: $140 +HST
Full-time Student: $25 +HST
Date and Time: November 23, 2016 @ 12:00 pm-1:30 pm
Location: Osgoode Hall Law School, Room 1005 (The Moot Court)
Cost: Free (light lunch and refreshments will be provided)
RSVP to: ianstedman@osgoode.yorku.ca

ABSTRACT: Recent advances in molecular biology focused on genome science leading to the ability to precisely manipulate and edit genomes, has been a spectacular advance in the life sciences and is a revolution in biomedical science with profound applications and implications in all areas of the life sciences including medicine, biotechnology, plant, and animal science. The technology for genome editing, referred to as 'CRISPR', has developed very recently from basic studies on adaptive immunity in bacteria; how bacteria protect themselves from viral infection. Many of the applications of genome editing, in medicine (e.g. 'personalized medicine') and in other areas, have important ethical consequences that must be considered in the development and use of the technology. We will discuss the scientific foundation of the technology and introduce some of its applications, as well as discussing legal and ethical implications for the use of the technology.
This talk is also being generously supported by:
Institutions, Constitutions: The Judiciary's Role in the 21st Century: A Symposium in Honour of Former President of the Israeli Supreme Court Dr. Asher D. Grunis '77 (DJur)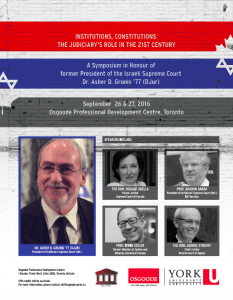 Dates: September 26-27, 2016
Location: Osgoode Professional Development Centre, 1 Dundas Street West.
AGENDA, PROGRAM & AUDIO
SPEAKERS

Symposium poster can be downloaded here.
This program was eligible for 9.0 Substantive content hours towards the annual CPD requirement with the Law Society of Upper Canada (LSUC).
Section 15 Symposium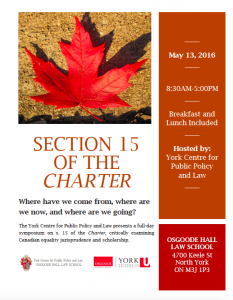 Date: May 13, 2016
Time: 8:30-5:30PM
Location: Ignat Kaneff Building, Osgoode Hall Law School
The program for the Symposium can be downloaded here. Last minute updates to the schedule for the symposium can be viewed here (pdf) or downloaded by  clicking here (Word).
Graduate Law Students Association Osgoode Forum "Legal Practice and Legal Theory Discourse: Critical Views of Education and Research" (May 26 & 27, 2012)
YCPPL was a co-sponsor of the conference and distributed the CFP and promotional material via the YCPPL listserv. Director Trevor Farrow was a keynote panelist for the panel "How do we bring Justice?"
Osgoode's 15th Annual Constitutional Cases Conference (May 2012)
YCPPL was a sponsor of the conference and will host a link to the conference web page when its website design is complete (See https://pi.library.yorku.ca/ojs/index.php/sclr)
Ontario Human Rights Commission's Legal Workshop on Human Rights, Creed, and Freedom of Religion, held at Osgoode Hall Law School (March 29 & 30, 2012)
In partnership with The Ontario Human Rights Commission (OHRC) the YCPPL hosted a legal workshop on rights relating to religious belief and practice in March. The primary purpose of the legal workshop was to generate expert legal and academic research and dialogue to help inform the OHRC's update of its 1996 "Policy on Creed and the Accommodation of Religious Observances". YCPPL's other York partners in this Workshop were Osgoode Hall Law School and the York Centre for Human Rights
Symposium of Ontario Research Chairs in Public Policy, York University (March 5 & 6, 2012)
More information on this event, including an archived webcast of the symposium, can be found at http://cou.info.yorku.ca/
View event poster here.
Transforming Colonial Categories? Customary Law, Legal Pluralism and the Cultural Heritage of Indigenous Peoples (Jaunuary 2012)
Co-sponsored with the Intellectual Property Issues in Cultural Heritage Project: Theory Practice Policy and Ethics, a SSHRC MCRI project, based out of Simon Fraser University this workshop brought together 18 invited participants to consider some of the political and theoretical implications posed by the desire to 'protect' indigenous cultural heritage, a desire that has  renewed attention to the place of 'customary law' in international policy circles.
Policy Leaders Seminar Series
Have we reached a flashpoint? New developments affecting independent TV production in Canada" 
A talk by Peter S.Grant, Counsel, McCarthy Tétrault LLP, January 30, 2012. To view the event poster click here. Accountability to Law as an Aspect of Democracy, A talk by Dr. Gregory Tardi, Senior Parliamentary Counsel at the House of Commons in Ottawa, October 31, 2011. To view the event poster click here. Breaking Boundaries: Building the Toronto Region by Crossing Divides, A talk by Julia Deans, October 6, 2011. To view the event poster click here.
Tax and Pension Policy Issues on the Horizon, A talk by Steve Orsini, Deputy Minister of Revenue and Associate Deputy Minister of Finance, September 1, 2011. To view the event poster click here
Translating UNESCO's Cultural Policy Goals into a Canadian Context with David Walden, Secretary-General, Canadian Commission for UNESCO , Garry Neil, Director of the International Network for Cutlural Diversity and Nicole Aylwin, PhD Candidate and cultural policy expert,  March 8, 2011. To view the event poster click here.
Patterns and Scenarios in Political Law, Dr. Gregory Tardi, November 11, 2010. To view the event poster click here.
Intellectual Property and indigeneity: International Policy Making Between Neoliberalim and Human Rights with Dr. Catherine Bell, Dr. Rosemary Coombe, Dr. Patricia Goff, September 23, 2011. To view the event poster click here.
Sponsored Events
Each year the YCPPL participates in multiple events designed to disseminate knowledge and foster interdisciplinary dialogue in the field of law and public policy. Please scroll down for more information on our various events.

The Crown and the Constitution Series:The Interplay between the Crown and Aboriginal People
Time: 12:30-2:30PM
Location: Room 1001, Ignat Kaneff Building, Osgoode Hall Law School
Four panel members provided their insights into the topic. They included:
Professor Kent McNeil, a faculty member at Osgoode since 1987, who is
considered one of Canada's pre-eminent experts on Aboriginal Law.
Kerry Wilkins, a Toronto lawyer and Adjunct Professor at the University of
Toronto Law School, whose practice has centred on constitutional issues touching
Aboriginal peoples.
Sigma Daum Shanks, who taught at the University of Alberta's School of Native
Studies and the University of Saskatchewan College of Law prior to joining
Osgoode's faculty in July, 2014.
Jeffrey Hewitt, a General Counsel to Chippewas of Rama First Nation, and a
McMurtry Clinical Visiting Fellow at Osgoode.
This event was organized by the Osgoode Constitutional Law Society (OCLS), with generous help from the Monarchist League of Canada and the York Centre for Public Policy and Law.
Please click here for the summary of the event from the editorial staff of Canadian Monarchist News of the Monarchist League of Canada
Indigenous Rights in Colombia
Date: February 7, 2014
Time: 2:00 PM
Location: Ignat Kaneff Building room 1001, York University
Two prominent Indigenous human rights experts, Maria Yagari and Frederico Duque, will discuss the emergency Colombian indigenous peoples face from ongoing armed conflict and increasing resource extraction demands, as well as the role of the international community and Canada in protecting Indigenous rights.
María Patricia Tobón Yagarí is a respected Indigenous lawyer with expertise in constitutional law, implementation of Indigenous rights and conflicts involving mining and energy projects in Colombia.
Federico Guzmán Duque is a deputy justice with extensive experience working to prevent the disproportionate impact of armed conflict and forced displacement on Indigenous peoples in Colombia.
This event is co-sponsored by the Centre for Research on Latin America and the Caribbean (CERLAC), the York Centre for Public Policy and Law (YCPPL), and the Aboriginal Intensive at Osgoode Hall.
EXPLORING CULTURAL POLICY IN AN ERA OF GLOBALIZATION: A STUDENT CONFERENCE
Time: 9am - 4pm
Location: McLaughlin Hall Senior Common Room (140), York University
This one-day student conference will feature paper presentations along with poster displays of 4th year student researchers whose work addresses the increasing prevalence of culture in public policy making. In aiming to explore how globalization has impacted our definition of culture and increased its value in the new "knowledge economy", students will present research on topics such as the current use of culture in urban planning and development, the place of cultural policy in nation-building and the role of cultural policies in shaping "creative industries." Please join us to celebrate our students' contribution to York's research community. All are welcome to attend.
This event is co-sponsored by the Centre for Research on Latin America and the Caribbean (CERLAC), the York Centre for Public Policy and Law (YCPPL),
and the Aboriginal Intensive at Osgoode Hall.
FROM VALUES TO POLICY & LEGISLATION: BREAKING TRAIL IN A HERITAGE SELF-GOVERNING CONTEXT
Place: Whitehorse, Yukon
This one-day policy forum aims to explore the challenges and experiences along with the successes and failures that Yukon First Nations communities have encountered as they have embarked on community-driven policy making or policy-making "from below." Bringing together community members, elders, policy makers, lawyers and academics, this forum will create a space for cross-cultural dialogue where we consider new opportunities, initiatives and policy-making strategies that meet the unique needs of Aboriginal communities. Co-sponsored by the Canadian Forum on Civil Justice.
REMEDYING DISCRIMINATION: A SYMPOSIUM ON THE ONTARIO HUMAN RIGHTS REVIEW
Date: Friday January 25, 2013
Time: 8:30am - 3:00pm
Place: Osgoode Hall Law School Rm 1014
Osgoode Hall Law School, the York Centre for Human Rights, the York Centre for Public Policy and Law, the Canadian Forum on Civil Justice and the IFLS are proud to support this symposium organized by Osgoode Professor Bruce Ryder and Osgoode McMurtry Visiting Clinical Fellow Fay Faraday.
Additional information, posters, programs and papers can be found here.
YCPPL CELEBRATES INTERNATIONAL HUMAN RIGHTS DAY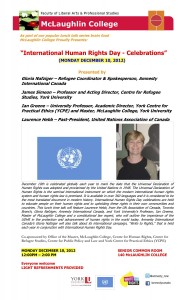 Date: Monday December 10, 2012
Time: 12:00pm - 2:00pm
Place: Senior Common Room, McLaughlin College
The event will feature remarks by:
YCPPL associate Ian Greene, Director of the Centre for Practical Ethics, who will speak about the importance of the Universal Declaration of Human Rights and its impact on Canadian law.
Amnesty International representative Gloria Nafziger, who will provide information on Amnesty International's "Write to Rights" campaign.
The past President of the UN Association of Canada who will speak about the impact that the UDHR has had on the modern international human rights system
YCPPL associate James Simeon, Acting Director of the Centre on Refugee Studies who will speak on Canadian James Humphrey's contribution to the drafting of the UDHR
All are welcome to attend – Please come out and help us celebrate! Light refreshments will be served.
Informed Opinions workshop, December 5, 2012
A professional media workshop for women faculty, to help address the documented
gender gap in the expertise we see covered in the media, co-sponsored with the
Institute for Feminist Legal Studies and the Centre for Feminist Research.
BOOK LAUNCH: Balancing Competing Human Rights Claims in a Diverse Society: Institutions, Policy, Principles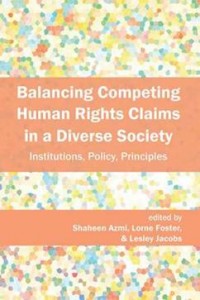 Date:  Wednesday, November 28, 2012
Time: 6:00 – 7:00 pm
Place: Senior Common Room, McLaughlin College, York University, 4700 Keele Street, Toronto, ON  Map:  http://goo.gl/maps/rabWz
RSVP by November 27, 2012 to alicia.carr@ohrc.on.ca
Please let Alicia know if you need any Code-related accommodation. Feel free to distribute this invitation to anyone who would be interested in this event. But respond early – spaces are limited.
REIGNITING CRITICAL RACE: A SYMPOSIUM ON CONTEMPORARY ACCOUNTS OF RACIALIZATION IN CANADA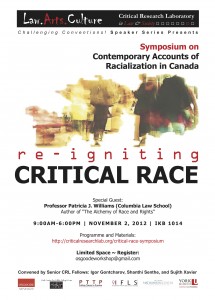 Date: November 2, 2012
Time: 9:00am - 6:00pm
Place: Osgoode Moot Court Room (IKB 1014)
Please Register at: osgoodeworkshop@gmail.com
Despite its vast contribution to legal scholarship, CRT as a lens is absent within the contemporary law school curriculum. It is for this very reason, the conveners are compelled to re-ignite interest in CRT and infuse the institutional structure with a new mode of engagement. The symposium will seek to address the definitional contours of CRT, the distinctions between American and Canadian CRT and its pragmatic constraints and challenges. We will inquire into how CRT is used to interrogate the law in modern times, notwithstanding aboriginal, ability/dis-ability, class, feminist, post-colonial and queer influences. Our conversation, therefore, is a starting point and a point of departure to critically engage in self-reflection.
Book launch, October 17, 2012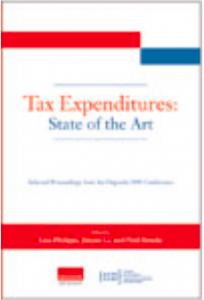 For Tax Expenditures: State of the Art (Lisa Philipps, Neil Brooks and Jinyan Li eds.); Comments by Jeffrey Simpson, national affairs columnist for The Globe & Mail.
ISSUES OF COST & ACCESS: BEYOND SILOS, TOWARDS STRATEGIES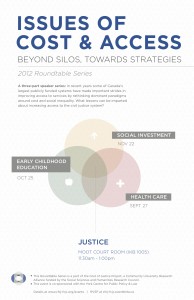 Time: 11:30am - 1:00pm
Place: Moot Court Room (IKB 1005)
In recent years some of Canada's largest publicly funded systems have made important strides in improving access to services by rethinking dominant paradigms around cost and social inequality. What lessons can be imparted about increasing access to the civil justice system?Join us for this three part Roundtable Series hosted by by the 
Canadian Forum on Civil Justice
 that will explore parallels to access to civil justice by engaging experts on health care, early childhood education and social investment.
Health Care - Thursday, September 27
Social Investment - Thursday, November 22
Early Childhood Education - Tuesday, January 15
CANADA'S RIGHTS REVOLUTION: A CRITICAL COMPARATIVE SYMPOSIUM ON THE CANADIAN CHARTER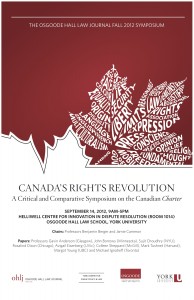 Date: September 14, 2012
Time: 9:00am-5:00pm
The YCPPL was a proud co-sponser of the Osgoode Law Journal's Symposium on Canada's Charter of Rights and Freedoms, held at Osgoode on Friday, September 14.
Papers were presented at the Symposium by Professors Gavin Anderson (University of Glasgow); John Borrows (University of Minnesota); Sujit Choudhry (New York University); Rosalind Dixon (University of New South Wales); Avigail Eisenberg (University of Victoria): Colleen Sheppard (McGill University); Mart Tushnet (Harvard); and Margot Young (UBC). Along with Robert Leckey (McGill) and Jennifer Nedelsky (Toronto) Osgoode Professors Sonia Lawrence and Bruce Ryder participated as discussants, and the Symposium closed  with concluding remarks by Michael Ignatieff.
Sessions throughout the day featured lively debate about the Charter's jurisprudence on freedom of religion, equality, social justice, and aboriginal issues. The papers from the Symposium will  be published in 2013 as a special issue of the Law Journal.  To  view the conference online click here.