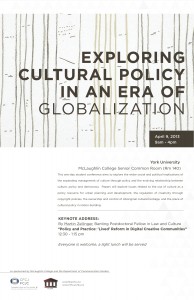 EXPLORING CULTURAL POLICY IN AN ERA OF GLOBALIZATION: A STUDENT CONFERENCE
On April 9th, the YCPPL will host a one-day student conference that will showcase the work of 4th year student researchers whose work addresses the increasing prevalence of culture in public policy making.
The conference will feature a Keynote Address by Martin Zeilinger, York's own Banting Postdoctoral Fellow in Law and Culture.
Please join us to celebrate our students' contribution to York's research community. All are welcome to attend.
This event is co-sponsored by the Department of Communications, McLaughlin College and the Canadian Forum on Civil Justice.
More information about this event can be found on our Events page.