Below are some examples of the IJP's many projects and activities.
---
THE NUJIANG PREFECTURE LAW SOCIETY STUDY TOUR TO CANADA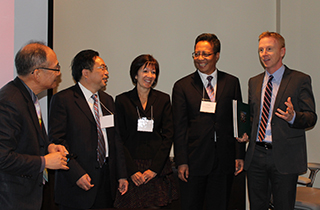 IJP had the pleasure to host a delegation from China. The four representatives from the Nujiang Prefecture Law Society, located in the Yunnan Province, visited Ottawa from April 15 to 18, 2015. The aim of the study tour was for the participants to learn about the Canadian Judicial system.
During their stay, the delegates had the opportunity to visit the Ontario Court of Justice in Ottawa where they were briefed on the different levels of Canadian courts and their jurisdiction. They also visited the Supreme Court of Canada and were hosted on a VIP tour of the Canadian Parliament.
The Office of the Commissioner for Federal Judicial Affairs (FJA) and the National Judicial Institute (NJI) also contributed to the success of this study tour by meeting and briefing the delegates on their respective role, the judicial appointment process, the independence of the judiciary and the importance of the continuing legal education for judges and lawyers in Canada.
---
STRATEGIC HUMAN RESOURCES MANAGEMENT IN THE JUDICIARY TRAINING FOR OFFICERS OF THE FEDERAL HIGH COURT OF NIGERIA
From July 7 to 12, IJP hosted a delegation of Officers from the Federal Court of Nigeria who were participating to a training on Strategic Human Resources Management in the Judiciary.
The training was organised in association with Globelinx Consulting, a USA consulting firm that aims to build organizational excellence in developing countries with sustainable economic growth.
The training which took place at York University in Toronto was delivered by two Canadian experts, Dr. Ian Greene, IJP's Chair and Professor Lynn Fournier-Ruggles of Seneca College of Applied Arts in Toronto in conjunction with Mr. Jeff Ebinama, consultant for Globelinx.
The themes discussed during the training included Human Resources Management in the Court, General Principles of Public Administration, Impact of Judicial Independence and Workplace Ethics.
On July 10, the delegates visited the Brampton Court where they were hosted by Mrs. Cathy Hiuser, IJP's Board member and Justice Katherine McLeod, member of the IJP's Advisory Committee.
---
COLLABORATION WITH SKOPE



IJP has provided training for lawyers and law students from Brazil, Columbia and Peru in association with SKOPE Educational Travel (http://skope.ca).  IJP provided training in association with SKOPE in January and July of 2016 and 2017.  Participants in SKOPE's English and Law program were introduced to the Canadian legal system, and witnessed trials with commentary in the Ontario Court of Justice and the Superior Court of Ontario.  As well, they met judges in the Ontario Court of Appeal, and were taken on a tour of Osgoode Hall, the historic building which houses the Ontario Court of Appeal.